I just watched it!!!! It's AWESOME =D> =D> =D> A must see!!!!!!!!!!
Nicharee "Jeeja" Vismistananda has spent the last four years training in martial arts and some movie buffs are touting her as Thailand's very own action heroine. And she's hot

This film is probably one of the most anticipated Thai martial arts film since Tony Jaa kicked and elbowed his way on to the screen in "Ong Bak".
Need to give credit also to the supporting staff, they worked like hell on this one. Also they used a lot of ice packs. All the fight scenes are real - as real as they can be, at the end you can see a few mild accidents... poor guys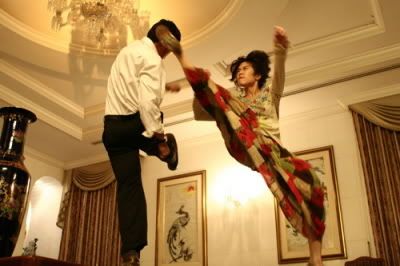 The director is saying: "Women can't compete with males when it comes to stunts and action. Besides, the bar has been raised now that we have a big star like Jaa. That's why we chose to do something different rather than try and match up to Jaa's standard".
[acidfree:2124 size=600 align=center]
Do remember - it's a Thai movie, so you'll see a bit of drama and a bit of blood here and there (if it's not gonna be censored for some shady reasons). Release date for SG: 15 May.
I've enjoyed a lot. You might do the same
More info, photos and trailer here: http://muaythai.sg/prachya_pinkaew_s_chocolate